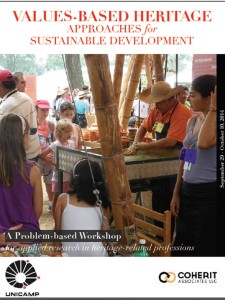 From 29 September to October 10, Coherit Associates conducted a workshop in values-based, participatory heritage at the Center for Environmental Studies and Public Archaeology Lab at the University of Campinas in Brazil. The aim was to offer the rising generation of Brazilian heritage professionals with a set of tools to empower local and associated communities to promote and protect their tangible and intangible heritage.
Seven important insights emerged that may be valuable to destination managers and heritage professionals working elsewhere to develop sustainable heritage tourism:
1. Pay more attention to domestic tourism
Though many (most?) heritage initiatives are focused on attracting international tourists, the development of dynamic programming that can attract return visits from weekenders and day trippers from nearby cities or regions may offer a more sustainable visitor base.
2. Recognize that capacity-building must benefit every level of the workforce
If empowering local communities to protect and promote their heritage is the objective, career enhancement and job training for local employees is a necessary complement for specialized capacity-building for heritage professionals.
3. Accept that heritage may already be managed effectively without you
Some communities, religious orders, and traditional practitioners are sustainably and creatively managing their heritage as lived culture rather than tourist venues. In such cases, the inclination of heritage professionals to promote and manage a site as a "cultural destination" may ironically drive cultural tourists away.
4. Don't try to combine cultural tourism with eco-tourism prematurely
Yes, there is an artificial partition between "nature" and "culture" in heritage management.  Yes, the value and significance of the two are inextricable.  But the marketing and management of each are often in competition for funding and visitors. Don'try to break down the wall between cultural and natural tourism until both sides can recognize a mutual benefit.
5. Don't promise too much or too vaguely; failure can be fatal to heritage 
It may be common practice for consultants or other experts to promise how heritage protection and promotion will be good for everyone and will stimulate the local community.  Usually the promise-makers are long gone by the time the actual results come in.  Local communities must demand accountability. Clear, measurable indicators of project performance–agreed upon at the outset–foster realistic promises and build mutual trust.
6. Recognize that nostalgia differs between generations and from place to place
Heritage tourism has traditionally relied on a universal longing for the Good Old Days– however ancient or recent they may be. Yet every generation, every community sees the past through the lens of its own memories and lived experience, and it's important for heritage planners and interpreters to understand and connect with that specificity.
7. Know the limits of development; sustainability rests on a knife's edge
Heritage consultants and community leaders are well aware of the dangers of economic underperformance of heritage investments, but they often fail to recognize that unchecked economic growth in heritage tourism can have destructive effects as well.  Tourist booms are often fleeting and can transform a place of once-vibrant culture into a dehumanized theme park.  What will be left for generations yet to come?  In Brazil, as elsewhere, the contribution of heritage to sustainable development lies along the narrow path between economic failure and unlimited growth.